So you've learned Design Thinking and you think you're ready to jump in and start creating a winning solution? Well… not so fast. To build a strong and sustainable product, you first need a strong and sustainable team! 
Find the people who will help you hack to glory using the guidelines below:
Teams should consist of 3-4 individuals. The strongest teams are made up of individuals with varied but complementary skills. When building your team, you should try to look for teammates with each of these skills:

Technology –

The Hacker

Business –

The Hustler

Communications –

The Hipster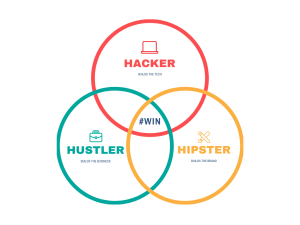 Having a well-rounded team is one of the most important steps you can take to set yourself up for success, so choose wisely!
2. Asides from a balanced skillset, the people you choose to be on your team should have similar vision and values as you. You should look for people who are passionate/interested in the same track bucket  (ie. fintech, prop-tech, edu-tech, etc.). 
With this approach, you can hack around that track bucket, knowing that your entire team is aligned in the purpose of finding a relevant problem within the track and creating the best solution for the problem.
3. Lastly, choose your Team Lead not based on ego, but by who can best represent your team. Remember, Team Lead duties are very admin-heavy. The Team Lead will have more meetings and will have to ensure all you deliverables meet all the requirement and are delivered on time. Therefore, whoever you choose should be very organized, and a good communicator. 
Once you have formed your winning team, you should take the 16 personalities quiz, which will help you understand the character strengths and weaknesses of your new teammates, how you should relate and work with one another, and how to solve conflicts. 
Finalized teams are due by 8:00 PM GMT so that all Teams can be grouped with Mentors. Team Leads should be sure to submit team member names via Kente during the creation of your Team ____.
There will be a workshop on Team Formation Today, 5/11 at ____ time with Samirah Maison via ___