Why Afrikathon?

Growing up, I always loved technology, so I decided to pursue the path. I loved programming so much, my friends called me Code Ninja.

After quite a while enjoying the glory of "superior intelligence," I discovered that I didn't really know anything. I learned that technology is that wide. Yet, people were willing to pay me for the little I knew, because there simply weren't enough people who knew that much. Then, I started to wonder. Many of the young people I grew up with were fighting over the same old jobs. So, if some of them knew the little I knew, they could also get paid.
I started searching for ways to distribute opportunities equitably. The opportunities were available, but they needed to be accessible too. Considering this, I founded a company https://teta.africa to teach people how to build software. This was primarily so they can also create solutions to solve problems in their locality, and then potentially do more. Maybe it could help make the world better, maybe it would make their lives even better. There was much to be gained, so we decided to do even better and created wecodeafrica to build open source solutions and tackle relative problems.
In spite of the fact that the potential is massive, the problem is equally large: Due to the high cost of internet and learning hardware, a lot of budding developers in Africa are starting their careers on a mobile phone. The lack of a universal Credit & Identity system in most African countries prevents hardware sellers from offering credit / installment payment plans on laptop purchases. For this reason, budding developers have to strive to pay high internet fees, pay for unstable electricity and buy hardware in full payments.


Knowing this, I wondered what could be done to empower people and make lives better. I did not have an answer, and I eventually took a break from the hectic search and went on a path to learn more. While on this journey, I took up mentorship roles on Coding Coach, Andela, a few other platforms to contribute my time to creating value for other individuals.

I have received some of the most heartwarming feedback; my mentees have received good jobs, launched their own apps, and have subsequently begun to mentor others.

 On this journey to be better I got a scholarship into the Meltwater Entrepreneurial School of Technology, out of over 4,500 applicants, I found myself among 56 brilliant Africans from 14 different African Nationalities.
And so every morning, I wake up, I am privilege of the opportunity to visit a fellow African Country, and learn about their culture, life, perspective, I experience a very diverse perspective to thoughts, ideation, execution that sometimes blows my mind, and I wondered how come we never discovered this, How could we make this even widespread, one answer came to my mind. HACKATHONS, maybe just because I am a techie, but hackathons, meetups, workshops, seminars, and all kind of tech events have been something I have been doing for quite a long time now. I've had the opportunity to co-organize some of the largest gatherings of developers across some African Countries with some of the most brilliant and passionate individuals I've ever met.
So what is a hackathon?
A hackathon is a design sprint-like event; often, in which computer programmers and others involved in software development, including graphic designers, interface designers, project managers, domain experts, and others collaborate intensively on software projects.
So, while on a road trip during the holidays, I thought to myself, can I bring these teams together to create something, something big, bigger than me that could positively impact the lives of anyone that came in contact with it. I decided to take the first steps, I reached out to a couple of individuals within my network, and as you guessed, they were glad to come onboard, these are community leads, passionate individuals, seasoned at what they do. Some of the best minds I've come across this continent.


As with every vision, you need actionable goals, so we thought about the problems to solve for 2020. And one very striking problem from collective research was Un-employment. So this year in thinking about what problems to solve, we did a brainstorms and we decided we needed more opportunities in Africa.  According to the World Bank, of Africa's nearly 420 million youth aged 15-35, one-third are unemployed and their prospects are low, these are sad numbers. We also have to consider the reality of the world post – COVID-19. The demand for technology and technological skills will rise, and so many jobs will cease to exist. With a third of African youths unemployed, and in the wake of COVID-19, these numbers could double. But does it have to?

There is a rise for innovative solutions that can tackle the problems we are facing in the world today, with so many initiatives being born out in these very trying times, we still have to account for the fast rate at which people are loosing their jobs.
Using Design Thinking, a system that can be used to solve any problem that is difficult or impossible to solve because of incomplete, contradictory, and changing requirements that are often difficult to recognize, usually characterized as (wicked problems). I say this because Design Thinking is a system, I've relentlessly used to ideate on very big problems, from Gender Based Violence, Agriculture, Health, Waste Recycling, ideas that I've had the opportunity to present to notable organizations, The Danish Tech Ambassador, The Deutsche Gesellschaft für Internationale Zusammenarbeit (GIZ), Mastercard Foundation. to mention but a few.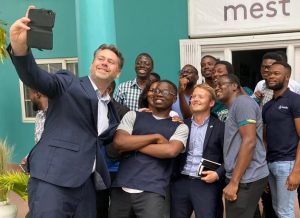 I've seen completely clueless individuals come up with the most amazing solutions in less than 72 hours, providing the right environment and resources, everyone is a problem solver, unique and diverse in their approach, thus I welcome you to the user centered approach to hacking for good.
Much more than the solutions created, hackathons are about true self discovery, the constraints presented allow people to unlock capabilities within themselves that they never thought existed, their power to think, create, build and imagine. Today we have Afrikathon. Not only would you be investing in Africa, but you would be positively impacting our future generations.
If you made it this far, and would love to participate in probably your first Hackathon, Signup for Afrikathon or Partner with us to Amplify our reach, or…. volunteer your time as a Mentor.  Learn More about how to Get involved with Afrikathon